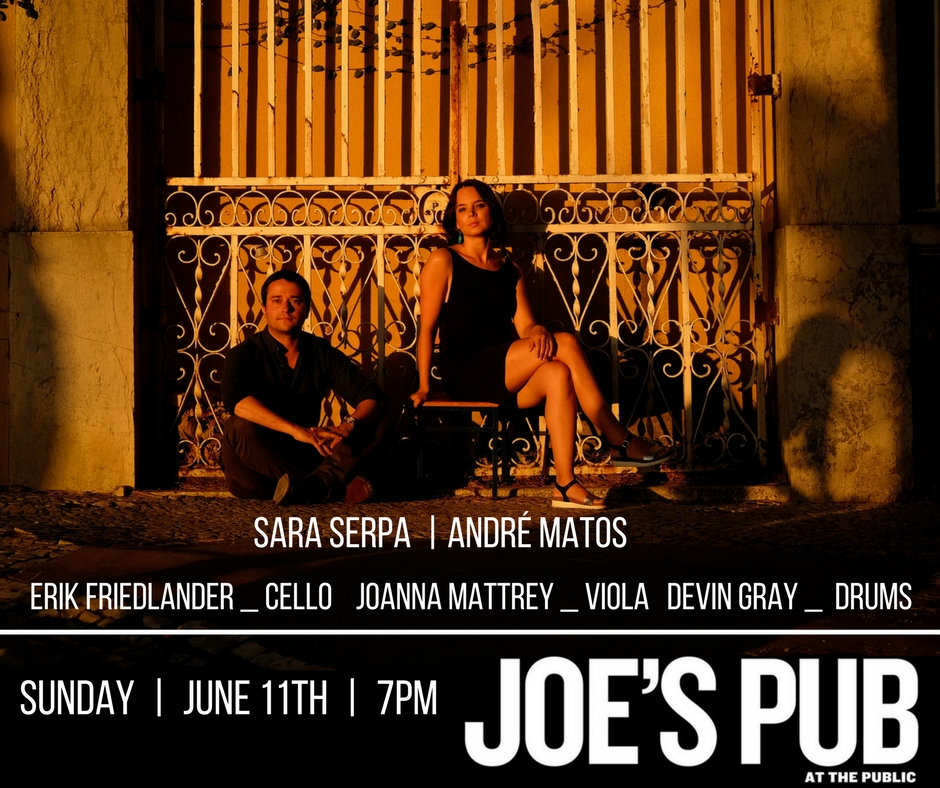 Sara Serpa and André Matos return to Joe's Pub, this time accompanied by Erik Friedlander, Joanna Mattrey and Devin Gray. Sunday, June 11th, 7pm.
Reservations at : 212.967.7555
For more info click here.
The combination of the voice and guitar of Sara Serpa and André Matos is magic, dazzling and calm. The Portuguese native and New York based artists work together since 2005. They achieved to create a unique sonic world, drawing upon pure and contemplative sounds through a personal approach to melody and poetry. Their musical identity reveals both their Portuguese culture as well as a certain allure inspired by the creative artistic environment of New York. Together they have released two albums, widely acclaimed by the press: Primavera (2014) and All The Dreams (2016), presented at Joe's Pub last September. For this performance, the duo presents their music with a new setting, accompanied by strings and drums. Serpa and Matos have been performing their music in countries like Portugal, Brazil, Uruguay, Argentina, Germany, Netherlands, Spain, Belgium, and of course, the United States.
Sara Serpa– voice
André Matos-guitar
Erik Friedlander-cello
Joanna Mattrey– viola
Devin Gray– drums
"…the chemistry and team work are close to perfect (…) Mato's delicate, lyrical electric guitar, intricate and hypnotic, is the perfect foil for Serpa's mostly wordless vocals, which are cool, calm and precise." Downbeat Magazine
"There may be no combination better capable of painting and promoting aural iridescence than that of vocalist Sara Serpa and guitarist André Matos. Their music is art at the point where minimalism and cangiante merge, resulting in an otherworldly sound that's utterly enthralling and completely unique." All About Jazz
"Primavera is a gemlike in its beauty and precision…" The New York Times